---
We are located at 4110 NE Fremont Street , Open 10am–6pm every day. (971) 339-0945. Contact Us
Holiday Hours: January 1: closed.
HAPPY NEW YEAR!
January 2023 at Artistic Portland Gallery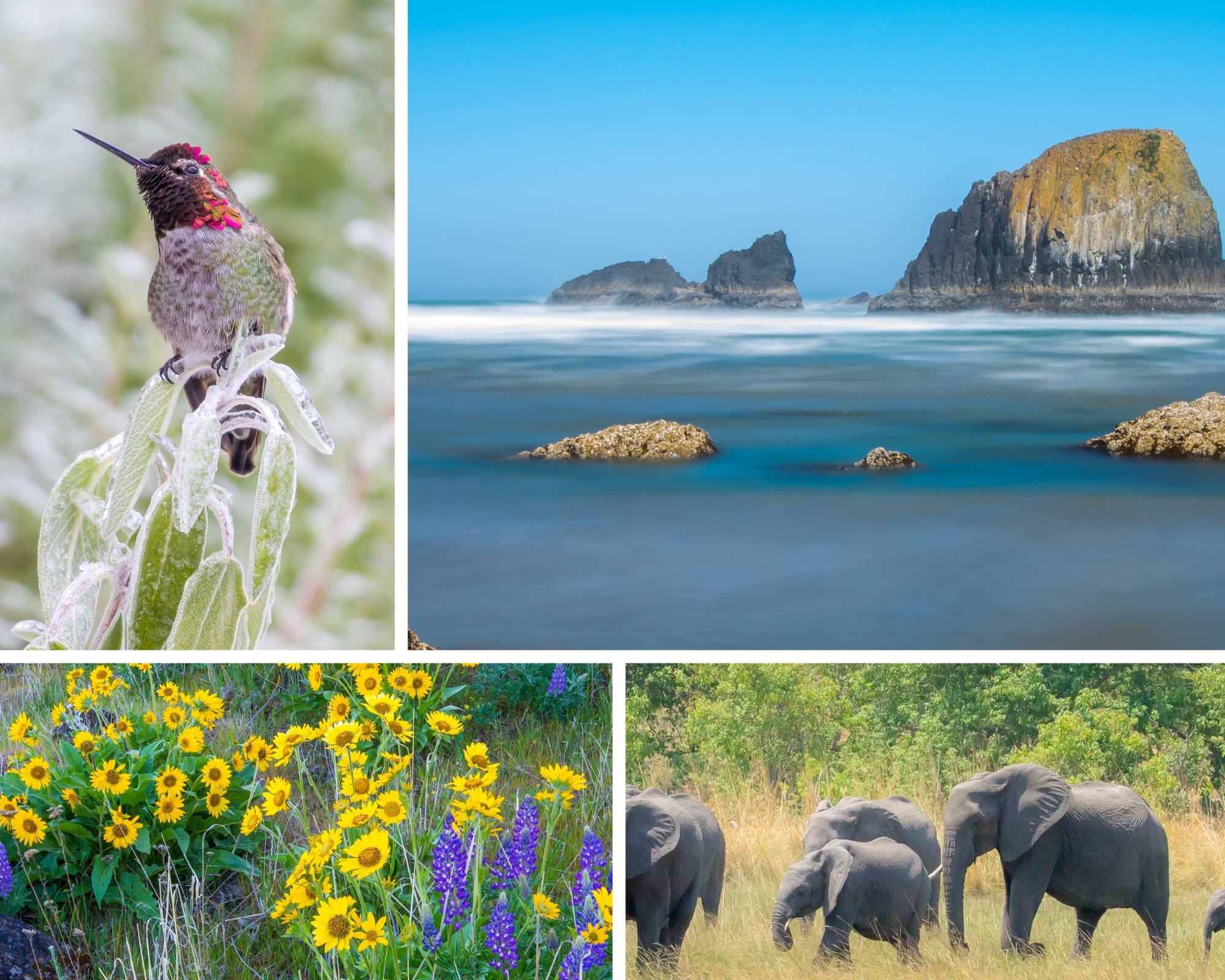 David Leonard (Photography): David Leonard is an incredible nature photographer, often capturing moments that are fleeting to the casual observer. His love of nature began with his childhood in Florida, where he spent his free time observing birds and searching for their nests, along with lizards, snakes, and turtles.

This fascination with wildlife has led him to a career as a wildlife biologist, and he currently works in wildlife conservation. David's photography is the result of his passion for both wildlife and photography. In his own words, "Capturing behavior indicative of the species I'm photographing is a critical element of my photography as is detailing movement in natural scenes whether it's water or lava.  The goal of my photography is to convey the beauty of the natural world so as to inspire people to save the species that remain and the precious bits of habitat that support them."

David utilizes an interesting printing process where his images are printed on metal, which give them a unique appearance of being lit from behind. You'll definitely want to see these in person!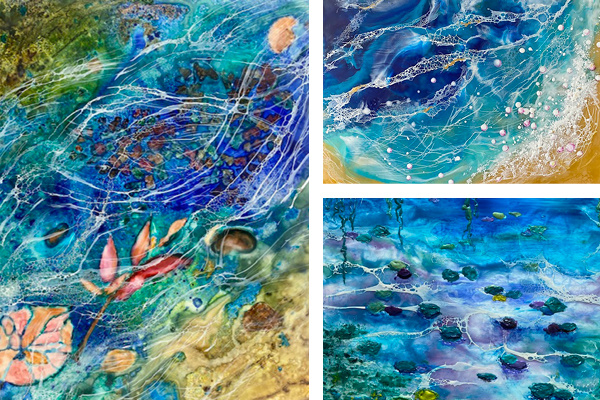 Artistic Portland Gallery welcomes encaustic artist, Shari Levine as guest artist for the month of January.
Meet the Artist on January 29, 12pm!
I'm an encaustic artist working with fused layers of wax and oil paint. I love the rich color and brilliant luminosity that can be achieved in encaustic painting," says Shari.
Encaustic medium is made of beeswax and Damar resin, which is a natural tree sap. It's combined with oil-based pigment to create encaustic paint, which is kept at 200°F to remain liquefied. "I work with a crockpot of encaustic medium, a griddle with pots of encaustic paint and a propane torch, which acts as my paint brush. Encaustic paintings are archival and can be lightly buffed every few months to maintain their high gloss finish. Recently, I've  been combining encaustics with alcohol ink, creating vibrant colors and with shellac, resulting in a unique webbing pattern." 
Shari was thrilled to receive the second-place award in the 2022 Portland Rose Festival Art Show. Over the past year she's been in two juried international encaustic shows and has a painting in the permanent collection at the Encaustic Art Institute in Santa Fe. She's also been in several local shows and events including the Washington County Open Studios and has hosted two solo shows and demos in her studio. Check out her work in person or purchase online.
About Artistic Portland Gallery
We are an artists' cooperative of 25 diverse local artists who seek to capture the creative spirit of Portland with all its quirks and beauty. With a wide variety of styles, we offer fine art and handcrafted goods for locals and visitors alike. The store is stocked and staffed entirely by our members.
Visit our new Portland location, 4110 NE Fremont Street, in the heart of the Beaumont-Wilshire neighborhood, or browse online for in-store pickup. (For shipping, please contact individual artists directly.) We are constantly adding new artists and new work so you can keep finding new treasures with every visit!
 2022 has been a year of change and growth, as we have welcomed back beloved customers and friends, and have met new ones along the way! From fun neighborhood events, to working with Beaumont Middle School, to First Thursdays, connections abound and we are grateful for each and every one. We want to thank all of you for your continued support--it means the world to all of us here at the gallery. Let's keep Artistic Portland Gallery going strong in 2023!