---
We are located at 4110 NE Fremont Street , Open 10am–6pm every day. (971) 339-0945. Contact Us
New This Month in the Art Gallery
It is officially the season of L-O-V-E at Artistic Portland Gallery! We have some gorgeous new work to herald in the season, along with two very exciting guest artists in the Annex, and are welcoming a new artist into our gallery! We have Valentines gifts of all kinds. 
FIND THE HEART Feb 1–14
Find the beautiful felted heart by Ammi Brooks, hidden somewhere in the gallery, and win an art gift bag! 
Meet February 2023 Featured Artists, Feb. 2nd
Come to our First Thursday event on February 2nd, and meet our featured Window Artists, Nancy Smith Klos, Painting, David Dahlquist, Ceramics, and Carlyne Lynch, Glass, and Guest Artists, Laurie Feinswog and Margaret Synan-Russell.
Nancy's paintings feature a variety of media, but are mostly centered around oil paintings in outdoor settings. They are studies of nature, of landscapes, and the wonder that surrounds us. In her own words, "At the base of all the artwork I create is drawing. This is where I start and this is how I end a piece-no matter what the medium. To paint in ink and oil is to study color, texture, impression, poetry all in one. It is immediate and fresh to work with. Other art can follow."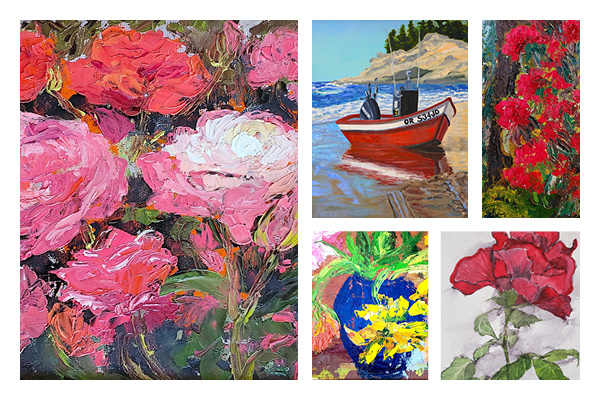 David discovered pottery at a young age and fell in love with the craft. Though he dreamed of being a potter, he joined the family business and maintained his passion for pottery in his free time. He ran a successful family business with his brother Garrick for 28 years, but after he lost his brother to cancer, he decided it was time to pursue his true passion. "Garrick told a story before he passed that he would show signs that he was safe and happy as a yellow bird. I sold my family business, left the corporate world and Yellow Bird Pottery was born." David's ceramics often feature natural elements such as leaping fish, birds, and unique renditions of moths. We are very much looking forward to this new exploration of sgraffito that he has been exploring!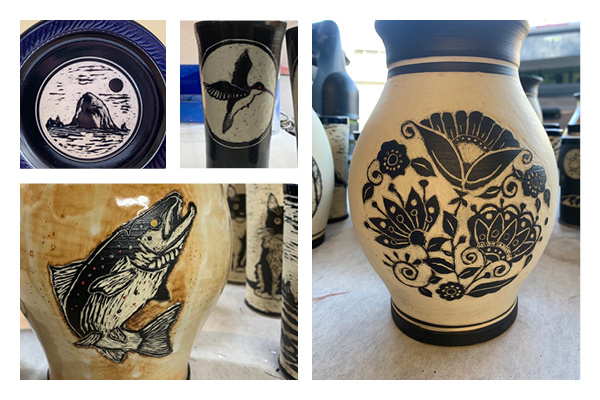 Carlyne Lynch (Glass): Carlyne's whimsical and colorful glass creations are the result of years of study and craftsmanship. She combines torch work, glass powder, glass pieces, and glass paint to create layered pieces that comprise 5-9 layers of glass. Her work is always full of color and explores a variety of techniques and forms! "Melting glass into useable forms is my latest adventure: Functional Art. Many of us have artwork that are stored in closets or other hidden places and have no space to display new work. I have been encouraged to try this new medium of expression for my glass art objects. Art that can act as both aesthetic objects but also have a utilitarian function."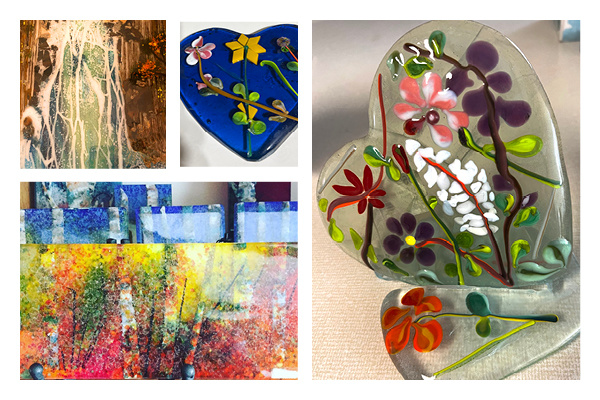 Welcome February Guest Artists, Laurie Feinswog and Margaret Synan-Russell! First Thursday Opening is Feb. 2nd, 4–6 pm.
Inspired by my study of physics and astronomy, and my love of math and geology, I create unique and wearable art pieces that suggest motion or expansion or demonstrate basic scientific principles. Using texturing techniques such as reticulation, cuttlefish casting, water casting, and hammering, I aim for a rough, organic abstraction that balances the formal influence of the underlying science.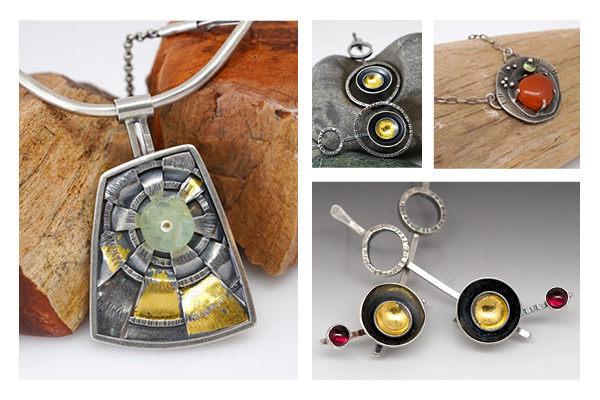 I use visual media to communicate with people. I hope that people find something in my art to connect with that speaks to them. 
I love clay! I love how it feels in my hands, how it lets me mold and shape it, and how it lets me make sculptures that seem strong or delicate.  Each piece has a story behind it, but I hope you create your own story to go with what you see. 
About Artistic Portland Gallery
We are an artists' cooperative of 25 diverse local artists who seek to capture the creative spirit of Portland with all its quirks and beauty. With a wide variety of styles, we offer fine art and handcrafted goods for locals and visitors alike. The store is stocked and staffed entirely by our members.
Visit our new Portland location, 4110 NE Fremont Street, in the heart of the Beaumont-Wilshire neighborhood, or browse online for in-store pickup. (For shipping, please contact individual artists directly.) We are constantly adding new artists and new work so you can keep finding new treasures with every visit!
 2022 has been a year of change and growth, as we have welcomed back beloved customers and friends, and have met new ones along the way! From fun neighborhood events, to working with Beaumont Middle School, to First Thursdays, connections abound and we are grateful for each and every one. We want to thank all of you for your continued support--it means the world to all of us here at the gallery. Let's keep Artistic Portland Gallery going strong in 2023!