---
We are located at 4110 NE Fremont Street , Open 10am–6pm every day. (971) 339-0945. Contact Us

New This Month in the Art Gallery
Next First Thursday is July 7th!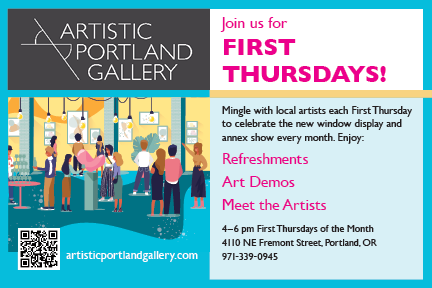 Join us for First Thursdays 4–6 pm as we turn over our window display and feature new artists and a guest artist each month! We will have refreshments, artist demos, Meet the Artists, and more.
July Guest Artist
Welcome July Guest Artist of the Month, Lorrie Coats, ceramic art: Lorrie Coats first started taking ceramic classes after retiring in 2011, and fell in love with the medium so much that she kept it going and now has a small studio. "It always amazed me how much clay can be manipulated into so many wonderful forms. When I pick up a lump of clay it can turn into anything! Some of my pieces make me laugh out loud, or sigh with sentiment. Life would be very full indeed if I did not have clay. The feel and texture of the clay can stimulate my imagination and senses to enable me to step into a whole new world."
July Window Artists
Anshula Tayal, ceramic artist: Anshula is an Indian-born artist residing in Portland, Oregon. Her ceramics have an incredibly unique feel to them in both the colors and imagery shown. "My ceramic series is called 'Kalakriti' - The Imagery Memoir. My ceramic work is a combination of my experience as a former architect with focus on form, shape, and design, along with my appreciation for traditional Indian art forms. The artwork on my pieces are inspired by the various fabric and textile designs of India. I give the classic embroidery, prints, weaves and paintings a new home on my ceramic pieces."
Whitney North, painter: Whitney creates bold, bright abstract paintings using acrylic on canvas and vinyl records. Subject matter includes pets and animals, flowers and landscapes, sea life, and abstract "replica" paintings. In her own words about these vibrant creations, "I simply hope that the work that I create will evoke a fraction of the emotional response in others that creating it brings to me."
About Artistic Portland Gallery
We are an artists' cooperative of 25 diverse local artists who seek to capture the creative spirit of Portland with all its quirks and beauty. With a wide variety of styles, we offer fine art and handcrafted goods for locals and visitors alike. The store is stocked and staffed entirely by our members.
Visit our new Portland location, 4110 NE Fremont Street, in the heart of the Beaumont-Wilshire neighborhood, or browse online for in-store pickup. (For shipping, please contact individual artists directly.) We are constantly adding new artists and new work so you can keep finding new treasures with every visit!